2nd Indian Wine Day 2018: Curtain Raiser
As a nod to the progressively buoyant Indian wine landscape, and the resounding success of the maiden Indian Wine Day (IWD) celebrated last year, in six LaLit Hotels in India and London, the Indian Wine Academy (IWA) has partnered again with The LaLit group to showcase Indian wines at their properties in India- Delhi, Bangalore, Mumbai, Jaipur, Udaipur, Chandigarh, Goa, Kolkata and London on Friday, November 16, 2018, according to a Press Release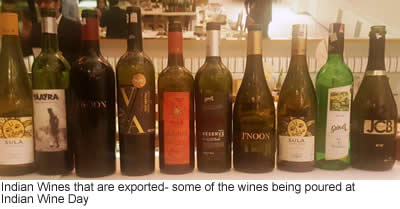 The pivot of the Indian Wine Day will be the Indian speciality restaurant, Baluchi in the cities where the restaurant operates. A five course gourmet Indian menu will be showcased to diners, paired with a line-up of select Indian wines. As a parting shot, and as a 'Sparkling Showcase', desserts and sparkling wines will be served at the nightclub, Kitty Su/ Kitty Ko in the cities where they operate, lending the event a glamorous touch.
President of the Indian Wine Academy, Subhash Arora, and the veritable force behind this initiative, has been co-ordinating with Team LaLit to make the 2nd Edition an even more enhanced experience.
Keshav Suri, Executive Director of The LaLit Group says, 'Indian wines are now competing with International brands. The LaLit London houses our pan Indian destination, Baluchi and will be celebrating the day to express solidarity and promote Indian wines in London.'
Historical Indian Wine Day 2017
The very first Indian Wine Day was celebrated on 16 November 2017 with simultaneous dinners at six LaLit Hotels in India and London where Indian cuisine from the Baluchi was paired with select Indian wines. A dramatic showcase of desserts and sparkling wines at the stylish nightclubs added an elegant slant to the event. The date was chosen to coincide with the Beaujolais Nouveau Day-the third Thursday of November and celebrated across the world.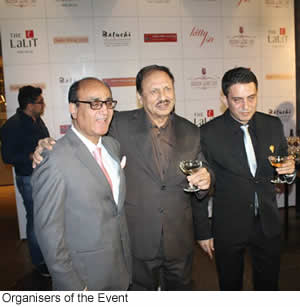 'Beaujolais is but a tiny wine region in Burgundy that has been celebrating this day for over 6 decades to create awareness and increase sales. Why not start our initiative on the same day for a Wine Day for India- a huge country in every aspect? Charles and I agreed it would be an appropriate start for a landmark event for Indian wines,' says Arora. Bangalore Wine Club, Chandigarh Wine Club also joined in last year and are supporting this year. Calcutta Wine Club has joined this year in Kolkata while Mumbai is being powered by Magic Cellars.
'I have been pleading with Indian producers to come to a common platform and choose a day so people focus on Indian wines. Special 'Days' like Champagne Day, Malbec Day etc are celebrated globally to promote wines/regions. It's not easy to but a start has to be made. There was no response, so we decided to go ahead and make a start. While discussing with Charles Donnadieu, the French Corporate Sommelier at the Lalit Group, it appeared there would be synergy if we joined hands and the idea of 'Indian Wine Day' was born,' says Arora, explaining germination of the concept.
The 2nd Edition is planned on similar lines as the first, but the Menu has been re-imagined and the quality of wines has been even more elevated. In Delhi, Mumbai and Bangalore, there will be around 10 top Indian wines including 3-4 sparkling wines showcased at the dessert counters. This would enable wine connoisseurs to truly judge the quality sought by the producers and taste their latest vintages. It would bring out the quality in the wines, that are improving every year and expressing Indian terroir.
Wines, being a fruit of the soil are best enjoyed when paired with the right dishes, and over conversations. Aim of the event is to align all these factors to make it a memorable one. 'We have kept the Menu same for all the venues in India- the wine list had to be tweaked a bit due to restricted availability of wines in different cities, thanks to the excise laws,' adds Arora.
Each dish will be matched with premium and super-premium wines from Sula, Grover Zampa, Fratelli, York, Reveilo, Chandon, KRSMA, SDU and Big Banyan among others. The price has been kept very nominal @ Rs. 2500 for each venue. The menu at London will be different and will include super-premium wines like J'NOON, the newly launched premium wine from Fratelli and Jean Charles Boisset of Burgundy and Napa. In London, the price has been kept at £ 70 for the dinner.
In Bangalore, the event at The LaLit is being powered by the Bangalore Wine Club and has been promoted by the club whose 110 plus members comprise wine aficionados and gourmands. There will be an Indian Wine Village at The Sutra Lounge's Garden, conducting tastings for all walk-in guests post 4.00pm ( no bottles will be sold) on the 16th November, 2018 post which the special dinner will be orchestrated by the hotel team in Baluchi.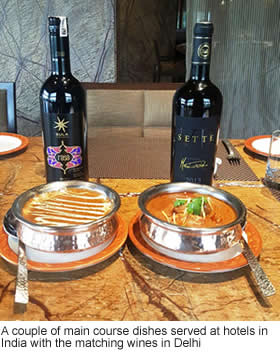 "Indian wine Day is a celebration of the growing stature of Wines from India. A young India is at an inflection point to embrace wine Culture as part of a changing life style," says President of the Club, PK Mohankumar. His board has been working diligently to make it better than last year.
Wines will be available at discounted prices for sale and guests may make their purchases at the venue. Incidentally, All the hotels belonging to the Lalit group will make wines available at 50% discount.
Wineries to celebrate in the Tasting rooms
Arora has been able to add a new initiative this year in order to get the wineries to be more participative. Sula, York and Soma Vine Village have agreed to participate in the Indian Wine Day also in their Tasting Rooms. They will have wines poured at 30% discount and food at 15% discount. Hotel Gateway in Nashik, a hub in wine tourism for Nashik has also volunteered to offer 30% discount on all Indian wines and a special Menu paired with Indian wines is being planned at their Indian Restaurant on November 16.
Hopefully, Indian Wine Day (IWD) will become an important day in the life of wine drinkers in India. We invite wine lovers to come to these venues in big numbers, failing which they should have a glass of Indian wine to celebrate the IWD.
For more details, please visit http://www.indianwineday.com/ and www.thelalit.com